2020 MOM6 Webinar Series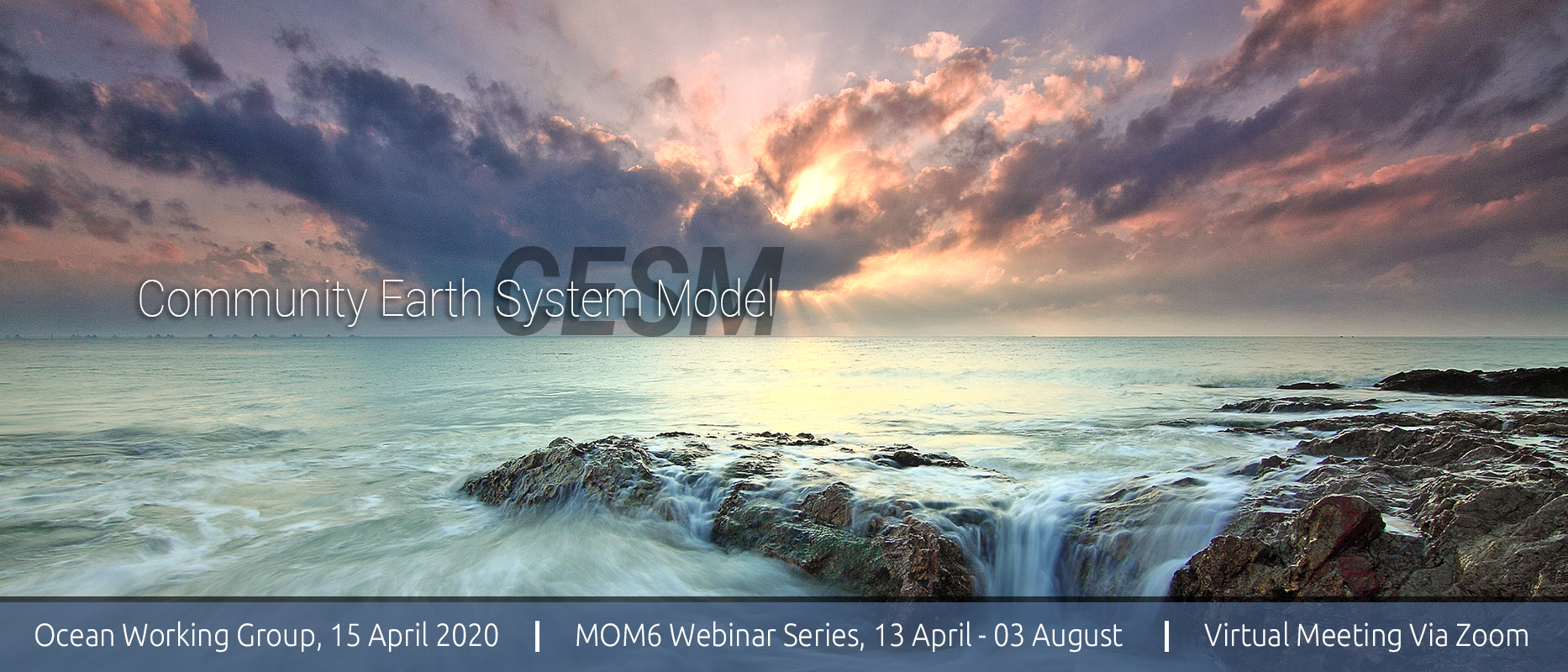 MOM6 Webinar Series
Due to COVID-19 outbreak, the MOM6 part of the Ocean Working Group meeting is now a web series via Google Hangouts. The webinar series will start on 13 April 2020 and continue until 3 August 2020.
Webinar Dates
04/13/20 - 08/03/20
Webinar Agenda
View the agenda in PDF format here
Webcast Information
You can view all of the recorded webcasts and presentation slides in the table below.
Webinar Schedule
After the final presenter there will be a group discussion.
Date
Speaker
Files / Title
13 April 2020
Stephen Griffies
View Video PDF A Primer on the Vertical Lagrangian-remap Method
Alistair Adcroft
View Video PDF Using MOM6
Gustavo Marques
View Video PDF Current simulations with MOM6 in CESM
27 April 2020
Alper Altuntas
View Video PDF Using MOM6 in CESM
Alistair Adcroft
View Video PDF OM4
Robert Hallberg
View Video PDF An Overview of MOM6 Algorithms
11 May 2020
Andrew Shao
View Video PDF A novel implementation of neutral diffusion
Raphael Dussin
View Video PDF Analyzing MOM6 Using a xarray/dask/zarr software stack
Alan Wallcraft
View Video PDF A Comparison of Twin MOM6 and HYCOM Eddy-Resolving Global Ocean Simulations
25 May 2020
Memorial Day Holiday
8 June 2020
Gustavo Marques
View Video PDF Representing the mesoscale horizontal diffusion of tracers within the boundary layers of general vertical coordinate ocean models
Marshall Ward
View Video PDF Verification and Validation of MOM6
Jessica Meixner
View Video PDF The Unified Forecast System
22 June 2020
Enrique Curchitser
View Video PDF Regional Ocean Modeling
Kate Hedstrom
View Video PDF Setting up regionl MOM6
Robert Helber
View Video PDF Regional MOM6 for the Nordic Seas
6 July 2020
Isla Simpson
View Video PDF Simpler models within the CESM framework
Xiaoning Wu
View Video PDF CESM MOM6 Aqua and Ridge Planets
Sarah Ragen
View Video PDF Ocean Basin Geometry and Climate: a MOM6 Application
20 July 2020
Dan Amrhein
View Video PDF Coupled Data Assimilation
Matthew Harrison
View Video PDF MOM6 Data Assimilation Interfaces
Travis Sluka
View Video PDF SOCA (Sea Ice Ocean Coupled Data Assimilation)
3 August 2020
Keith Lindsay
View Video PDF Newton-Krylov Methods for Tracer Spinup
Andrew Shao
View Video PDF Adding Ocean Tracers to MOM6
Michael Levy
View Video PDF Adding the MARBL Biogeochemistry Model to MOM6